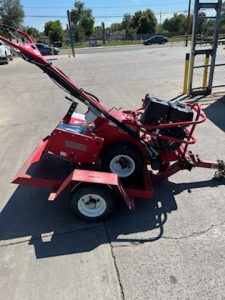 A & J equipment rentals has been providing excellent customer service since 1980. We have been helping both homeowners and professionals tackle their most challenging projects, both large and small. We offer premiere equipment rentals at reasonable rates so that you can work with confidence.  We rent all type of equipment for working on your home or yard.  If we do not have what you need we can refer you to someone nearby who does.  Now is the time to get started on yard projects in Denver.  The weather has been so nice and we have minimal snow so start planning your outdoor projects.
Here are some projects that homeowners typically work on in the spring:
Sprinkler systems – We rent trenchers for this type of work.
Fencing– We rent post hole diggers.
New sod-We carry roto-tillers to prepare your dirt or old lawn for the new sod.
Tree removal– We have tree chippers to quickly turn trees into wood chips.
Planting large trees– We have tree ball carts.
Excavating– We carry mini excavators with retractable  treads that can fit through most gates.
Yard work– We have power rakes, motorized wheel barrels, edgers, chain saws, aerators, weed mowers.
A & J Time Rentals, Inc. offers an extensive selection of heavy equipment, trailers, hand and power tools, lawn and garden equipment, heaters, scaffolding, saws, grills, canopies, chairs, tables and more!
Contact A & J Time Rentals Inc. today at 303-423-7448 to learn more.