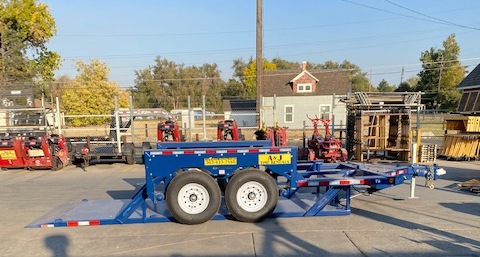 ---
Air-Tow  is a trailer that goes flat to the ground for hauling heavy equipment such as forklifts to heavy tool boxes.   Level no tilt loading is ideal for large equipment. Its 16' long and 6' 3″wide and carries a 10,000 pound payload.
Air-tow features
Engineered to carry heavy loads without damaging the deck. Heavy duty 3/16" steel diamond plate is standard.
Easy operation. Press on the up button and the hydraulic system raises the deck in less than 30 seconds. Press on the down button and the deck lowers at a smooth controlled speed.
Equipped with a rubber suspension with a progressive spring rate. The more it is compressed, the stiffer it becomes.
Air-tow has an extra wide 75" width for carrying larger skip loaders, wide pavement sweepers or two scissor lifts side-by-side with room for easy tie downs.
Air -tow doesn't need to be coupled to the tow vehicle to stabilize while loading or unloading. Load in advance and have it ready for pick up or leave at the job site for convenient uncoupled usage.
A and J Time rentals is committed to providing you with reliable trailer rentals at competitive prices. We inspect and service our trailers regularly so that you can have peace of mind when renting from us. Please call to reserve your trailer ahead of time as they are very popular.